Product Overview
Our best selling Mains cable made even better, this item is priced per metre, please select the length you require by increasing the qauntity.

These are from a strictly limited production run - no more will be available once these are sold out.
Unterminated priced per metre

LoRad 2.5 Mk 11 SPC 40th Anniversary Limited Edition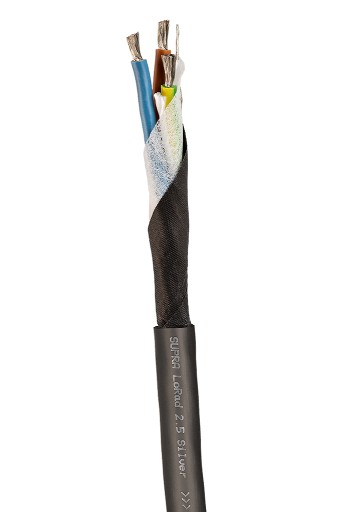 3x 2.5mm sq. cores of silver-plated multi-stranded OFC cable
External Diameter: 11mm
Outer jacket colour: Anthracite Grey
Brown (Live), Blue (Neutral) and Green/Yellow (Earth) coloured insulation jackets.
Mylar mesh
Tin-plated drain wire
Semi-conductive nylon/carbon screen
Highly flexible outer insulation (easily passed CE-regulation 2x 30,000x "bends" test !!)
Approx. 16A rating (@ 230V)
"This is a superb-value, silver plated and screened mains cable that is very flexible and well made. It delivers significant audible improvements over a standard length and so an audition is highly recommended"
Hi Fi Choice
Reviews